Accessories
It is not merely the pump that makes the FLUX solution a perfect equipment. The comprehensive range of accessories ensures that FLUX always can provide a total solution for every barrel and container pump application - whether it is part of a fluid handling system or a single pump unit.
Hand Taps
Available in different versions and materials
Flexible hoses
Complete hose kits, hose fittings, hose clips, hose connectors, etc.
Accessories Pumps
Compression glands, fume glands, mounting flanges, suction strainers, wall brackets, etc.
Accessories Motors
Carrying handles, motor protection switches, power supply cables, etc.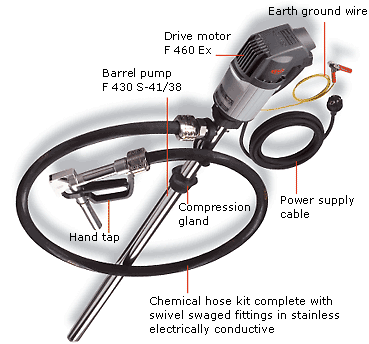 Tomlinson Hall is delighted to be a distribution partner for FLUX, a leader in its field, and a developer of barrel pump technology for more than 60 years. Its dedication to research and development and product evolution reflects Tomlinson Hall's own commitment to offering the very best pump products to our customers.
FLUX, along with DEPA and ELRO, is part of a strong contingent of German pump brands in our product portfolio, and we are proud to support the German pump industry.
Product Search
Search for the best FLUX pump or system for your requirements.